Want to make sure you motor stays running long and need good timing belt solution? Below is our complete kit for timing belt changes. Parts can also be purchased separately.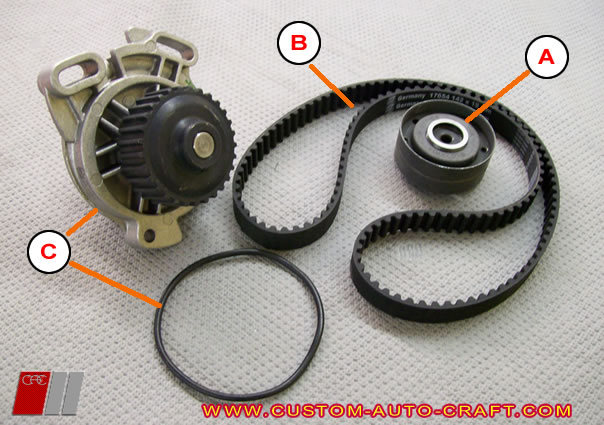 5 cylinder motor timing belt kit
---
TIMING BELT COVER NUTS IN STAINLESS STEEL
Changing your timing belt on your V8 or 100 200? Do you have those nuts which hold the timing belt cover on rusted? Want something to updated that rusty look on your timing belt, or just tired of rusty nuts? I am offering now direct replacements nuts for the timing belt covers on V8 and 4 & 5 cylinder cars....all in STAINLESS STEEL!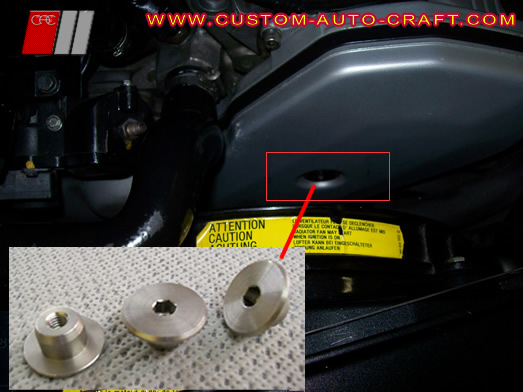 CAR / MOTOR
ORDER NUMBER
PRICE
AUDI 80 / 90

WITH 5 CYL MOTOR:

WE / WN / JS / SK / HP/ JL / NG / PS / KV / NM / 7A

CAC100005-B
€ PLEASE INQUIRE
AUDI COUPE

WITH 5 CYL MOTOR:

WE / WN / JS / SK / HP/ JL / NG / PS / KV / NM / 7A

CAC100005-B
€ PLEASE INQUIRE
AUDI 80

WITH 4 CYL MOTOR:

DZ / DT / JN / DS / YP / YT / EP / YZ / WY / WP / WT /

CAC100005-C
€ PLEASE INQUIRE
-
-
-
---
MOTOR MOUNTS / MOTOR HYDROLAGER
AUDI 80 / 90 / COUPE (TYPE 89) (1988-1991)
SIDE
MOTOR
ORDER NUMBER
REF OEM NUMBER
PRICE
LEFT

5 CYL: KV / NG / NG / NM / 7A

CAC449379
443 199 382
OUT OF STOCK
RIGHT

5 CYL: KV / NG / NG / NM / 7A

CAC449379-D
443 199 379 D
OUT OF STOCK
-
-
-
-
-
AUDI 80 / COUPE / CABRIOLET / S2 / RS2 (TYPE B4) (1992-1995)
LEFT
-
-
-
-
RIGHT
-
-
-
-
-
-
-
-
-
---
KNOCK SENSOR / KLOPFSENSOR
Note:


The knock sensor responds to spark knock caused by Pre-detonation of the Air/Fuel mixture. As the flame front moves out from the spark plug ignition point, pressure waves in the chamber crash into the piston or cylinder walls resulting in a sound known as a knock or ping. This is caused by using a fuel with a low octane rating, overheating, or over advanced timing. Sometimes it can be caused by hot carbon deposits on the piston or cylinder head that raise compression. A knock sensor, which serves to warn of engine knock or pinging due to a bad air/fuel mixture, can go bad. Signs that the knock sensor is bad are a sluggish engine, poor fuel economy and slow acceleration. Most of the time, the knock sensors don't fail entirely but go "soft" and create false signals.

AUDI 80 / 90 COUPE / CABRIOLET
MOTOR
INFORMATION
ORDER NUMBER
REF OEM NUMBER
PRICE
4 CYL: 3A / SD / 6A / ACE / ABK / ADA
-
CAC345377-A
054 905 377 A

034 905 377 A

OUT OF STOCK
5 CYL: NG
UP TO 1989

UP TO CHASSIS 8B K 020 000

CAC345377-A
054 905 377 A
OUT OF STOCK
5 CYL: PS / SL
-
CAC345377-A
054 905 377 A

034 905 377 A

OUT OF STOCK
5 CYL: 3B (S2)
FRONT SENSOR
CAC345377-A
054 905 377 A
OUT OF STOCK
6 CYL: AAH / ABC
-
CAC345377-A
054 905 377 A
OUT OF STOCK
---
ENGINE SPEED IMPULSE SENDER - IGNITION TIMING SENDER
IMPULSGEBER FUER MOTORDREHZAHL - GEBER FUER ZUENDZEITPUNKT
Engine will not start (turns over but does not start) ?

ECU not getting the timing signal to start the engine?

Now we offer also these critical engine sensors (timing end speed sensor) to revise your cars back to working standards.

NOTE:
it is advised to first read (download) the faulty codes on your car before assuming your old part is faulty.

ENGINE SPEED IMPULSE SENDER (G28)

AUDI 80 / 90 / COUPE / CABRIOLET / S2 / RS2

MOTOR
YEAR
ORDER NUMBER
REF OEM NUMBER
PRICE

5 CYL: NM / 7A

1987-1991
CAC345381
034 905 381 A
OUT OF STOCK

S2: 3B / ABY

1990-1992
CAC345381
034 905 381 A
OUT OF STOCK

V6: ABC / AAH

1991-1996
CAC345381
078 905 381 A
OUT OF STOCK

RS2: ADU

1994-1996
CAC345381
078 905 381 A
OUT OF STOCK

-

-
-
-
-

IGNITION TIMING SENDER (G4)

AUDI 80 / 90 / COUPE / CABRIOLET / S2 / RS2

MOTOR

YEAR
ORDER NUMBER
REF OEM NUMBER
PRICE
5 CYL: NM / 7A
1987-1991
CAC345381
034 905 381
OUT OF STOCK
S2: 3B / ABY
1990-1992
CAC345381
034 905 381
OUT OF STOCK
V6: ABC / AAH
1991-1996
CAC345381
078 905 375
OUT OF STOCK
RS2: ADU
1994-1996
CAC345381
078 905 375
OUT OF STOCK

-

-
-
-
-
---
OIL PRESSURE SWITCH
ÖELDRUCKSCHALTER
Do you have oil coming running out of the bottom of your car, loosing oil regularly, (becoming even dangerously low)?

These oil pressure switches have an ability to go defect after several years...if you still have your original oil switch, check it as soon as possible for any oil deposits around the switch. The switch is commonly covered with a white rubber boot, so that boot must be removed (easy to do) to inspect further. These oil pressure switches can empty a complete oil pan within 50-60 KM trip...FACT!! I had it happen on my S4 (C4).

Luckily I was able to stop the car in time before it caused real damage...

complete engine failure
engine compartment fire from the oil being sprayed all over!!!

Save guard your motor before it is too late.

AUDI 80 / 90 / COUPE / S2 / RS2

MOTOR
INFORMATION
ORDER NUMBER
REF OEM NUMBER
PRICE

5 CYL:

WHITE HOUSING

1.6-2.0 BAR

CAC349081-E
056 919 081 E
OUT OF STOCK

4 CYL:

WHITE HOUSING

1.6-2.0 BAR

CAC349081-E
056 919 081 E
OUT OF STOCK